About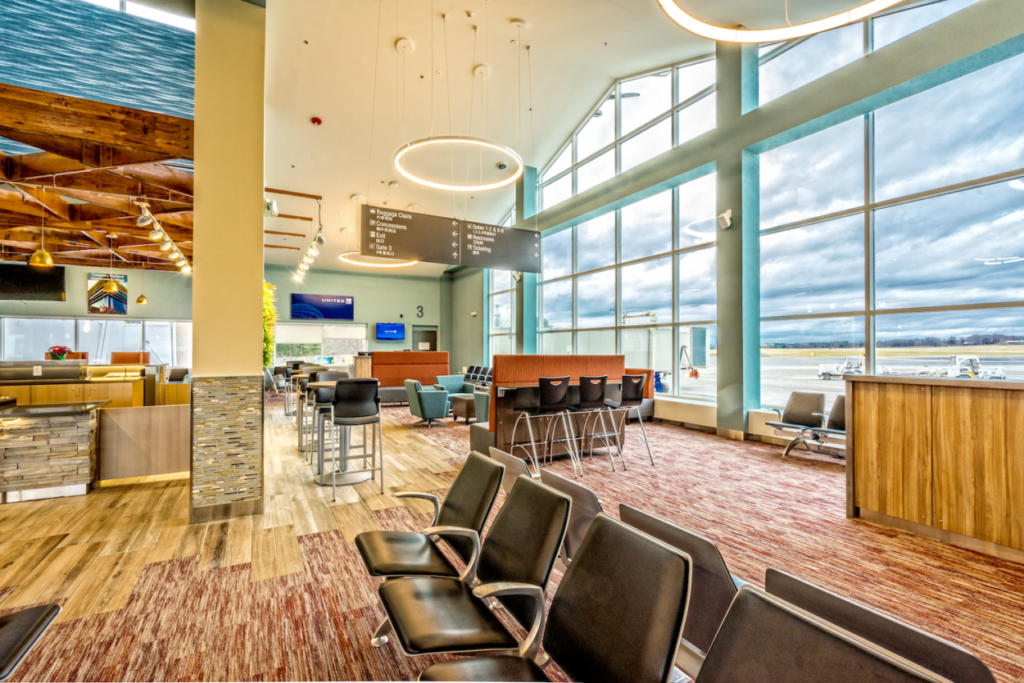 In 2018, over 200,000 passengers were greeted at the Ithaca Tompkins International Airport (ITH). Each year, ITH generates over $30 million for the local economy and nearly $456,000 in sales tax revenue. As a major international and national gateway to Cornell, Ithaca College, TC3 and other major employers, Ithaca Tompkins International Airport has three airlines, a fixed based operator (Taughannock Aviation Corporation), reliable ground transportation and a deep commitment to providing exemplary customer service. Ithaca Tompkins International Airport is a vital community asset located just ten minutes from Cornell and downtown Ithaca.
In October of 2018, Governor Cuomo announced groundbreaking of a $24.7 million expansion project of the Ithaca Tompkins International Airport, which was completed in December of 2019. The project expanded the terminal by over 50 percent and added amenities such as a new Café and Bar, an outdoor seating area, more gates and jet bridges, an indoor playground, conference rooms, a pet relief area and more. A new U.S. Customs Facility was also part of the expansion project, transitioning the airport from regional to international. Once complete in the spring of 2020, the facility will be used for international general aviation flights, but ITH is now equipped for international commercial flights in the future.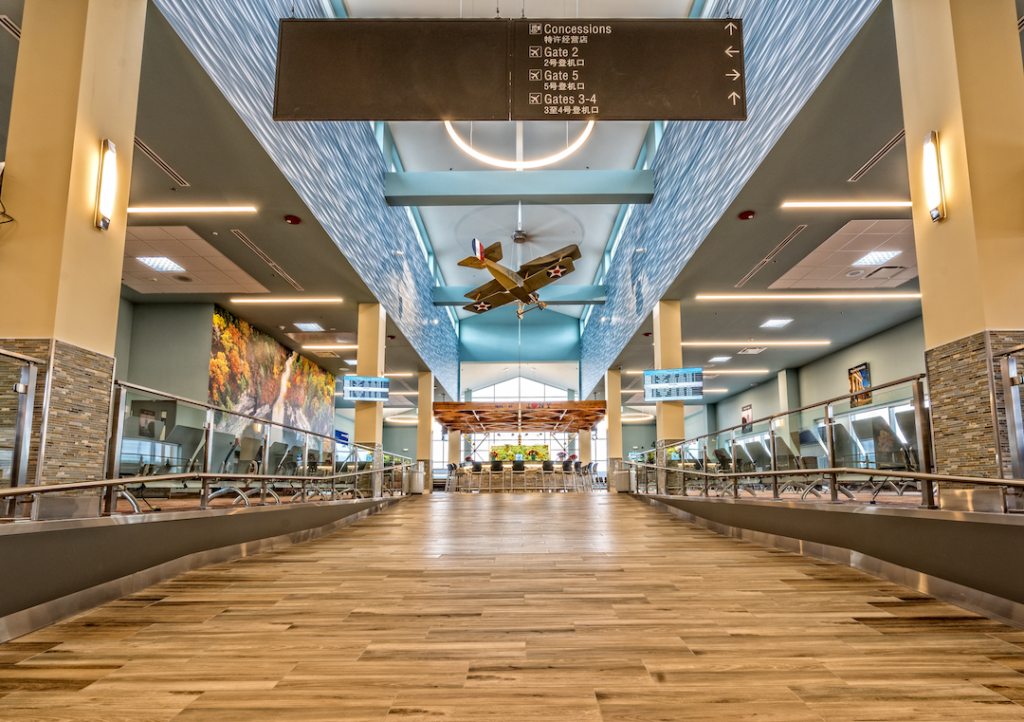 Other facility upgrades include major security enhancements, including the relocation and update of TSA baggage screening so that it is now compliant with post-9/11 security requirements, as well as an additional lane for passenger security to alleviate wait times. A solar canopy covered parking system was installed in the terminal parking lot, along with a new, translucent, curved top canopy structure along the front entrance of the airport.
Mission
Our mission is to provide a safe, efficient, clean, and enjoyable facility which exceeds the expectations of the traveling public, the airport tenants, and other airport users.
The Ithaca Tompkins International Airport has made some big changes recently! We've expanded, modernized, and upgraded our amenities to maximize customer experience. Our $34.8 million project, which more than doubled the size of the terminal, was completed in December of 2019. With millions of dollars invested into the project, you may ask, what's new? Read below and check out the photos to find out!

New Gate Area

A major part of the renovation was the addition of a new gate area, which was added onto the existing terminal. This area includes a large ramp/walkway, more seating, numerous charging ports, new restrooms, a living wall, and a full-service bar run by Triphammer Wines and Spirits and Ithaca Coffee Company. Other features of this space include the Tommy model plane suspended from the ceiling and a runway-facing glass wall that allows passengers to view air traffic on the runway. This new area brings the total number of gates to six.

Jet Bridges

An important addition to our airport is three new passenger jet bridges, bringing our total up to four. These bridges will completely eliminate the need for passengers to walk outside to get from their gate to the jet or vice versa. In our cold and snowy Upstate NY winters, our passengers will always stay warm, safe, and covered.

Conference Rooms

Two conference rooms were included in the renovation; one large and one small, both directly across from the non-secure Café. They are equipped with the latest technology to accommodate all user needs. These conference rooms will be available for anyone in the community to reserve and utilize. Rates and availability coming soon!

Catering for your meeting can be provided by The Flying Rooster Kitchen. Order fresh, made from scratch sandwiches and meals prepared directly on site. Locally roasted specialty coffee and espresso supplied from Ithaca Coffee Company also available.

Indoor Playground / Play Area

On the non-secure side of our airport we've installed a playground for our little travelers and visitors. The structure sits on a padded floor and is surrounded by seating for parents and guardians to comfortably observe. There are also several touchscreens in this area equipped with fun, interactive activities.

Military Courtesy Room

A Military Courtesy Room has been installed so that ITH can provide servicemen and women and veterans with a comfortable space to wait and rest for flights or transportation. The space includes couches, cable TV, a sink, microwave and more.

Pet Relief Area

A new pet relief room has been added to the secure side of our airport for travelers to take their pets before or after flights, complete with green turf and a red fire hydrant.

Security Enhancements

Major security enhancements were also part of the renovation project, including the relocation and update of TSA baggage screening so that it is now compliant with post-9/11 security requirements. An additional lane has also been added for passenger security to alleviate wait times. TSA Pre-Check is also an option at ITH now in the form of a blended lane. Using standard lanes to screen both TSA Pre-Check and non-TSA Pre-Check travelers, blended lanes increase the number of locations where TSA Pre-Check travelers receive full benefits of the program.

Canopy

We've Installed a new, translucent, curved top canopy structure along the front entrance of our airport, along with new lettering that illuminates at night.

Café

Enjoy fresh, made from scratch meals and locally roasted specialty coffee and espresso at The Flying Rooster Kitchen. Open to the public as well as airport guests. Let us cater your meeting! Click here to learn more.

Other updates include:

Construction of a new 5,000-square-foot Federal Customs Facility
Solar canopy covered parking system for the terminal parking lot
Installation of new plumbing, HVAC, fire protection, mechanical and electrical systems
Installation of a new geothermal water-source heat pump system to reduce natural gas usage for the terminal and Customs facility
Outdoor seating area and more!

All photos by Robert A. Stanton of Streeter Associates.

The first airport in Ithaca, also believed to be the second airport in New York State, was the Ithaca Municipal Airport, located near the inlet to Cayuga Lake, in an area that Cass Park now occupies. The Hangar Theatre made its home in the renovated municipal airport hangar right next to Cass Park.

Historic Highlights

Cecil Robinson began conducting aerial photography mapping for the government out of Ithaca Municipal Airport. His two four-place monoplanes became the cornerstone of Robinson Airlines at the end of the second World War. Shortly thereafter, Robinson Airlines was growing and their operation was moved to the new East Hill Airport, opened by Cornell University in 1948. Robinson Airlines became Mohawk Airlines in 1952.

Airport Management

Roxan E. Noble, Airport Director

Josh Nalley, Airport Deputy Director/ARFF Chief

Andrew Adsit, Airport Fire Fighter/Operations Technician

Tom Cooper, Airport Fire Fighter/Operations Technician

Cheryl Dean, Account Clerk Typist

Tyrone Fish, Airport Terminal Services Coordinator

Ryan Green, Airport Fire Fighter/Operations Technician

Matt Muraca, Airport Fire Fighter/Operations Technician

Dustin Potter, Airport Fire Fighter/Operations Technician

Jeremy Puterbaugh, Airport Fire Fighter/Operations Technician

Nate Sill, Airport Fire Fighter/Operations Technician

Kerry VanEtten, Airport Fire Fighter/Operations Technician

Tom Warner, Airport Fire Fighter/Operations Technician

Kent Wright, Airport Fire Fighter/Operations Technician

---

Air Service Board

The Air Service Board (ASB) began first as an advisory board, formed by the leadership from Tompkins County Area Development and the Tompkins County Chamber of Commerce. Initial functions prior to 9/11 included marketing, forecasting and carrier relationships.

After September 11, the Tompkins County Legislature expanded the duties of the ASB to include ensuring increased entrepreneurship and agility of ITH. This included tasks of improving existing and attracting new air service, engaging customers, reviewing operations, maintaining on-going relationships with air carriers and stemming leakage to other airports.

Larry Baum, CEO, The Computing Center
Gregory Mezey, Co-Vice Chair, Tompkins County Legislator
Gary J. Stewart, Associate Vice President, Cornell University Community Relations
Laurie Koehler, Vice President, Marketing and Enrollment Strategy, Ithaca College
Jennifer Tavares, President & CEO, Tompkins County Chamber of Commerce
Katie Borgella, Co-Vice Chair, Commissioner of Planning & Sustainability, Tompkins County Legislature
Ed Lavigne, Lansing Town Supervisor
Heather D. McDaniel, Chair, President, Tompkins County Area Development
Ken Hodges, Demographer, Claritas