Travel Light, Travel Right: How to Pack Your Carry-on
Packing a light carry-on bag is the best way to efficiently travel, especially if you're traveling alone or going on a short trip.
Carry-on luggage keeps your essentials accessible! Not to mention, you won't have to wait in baggage claim nor fear losing your bags. (Look, we hate to admit it. But airlines may miss your luggage if there are delays. It's a touchy subject for all!)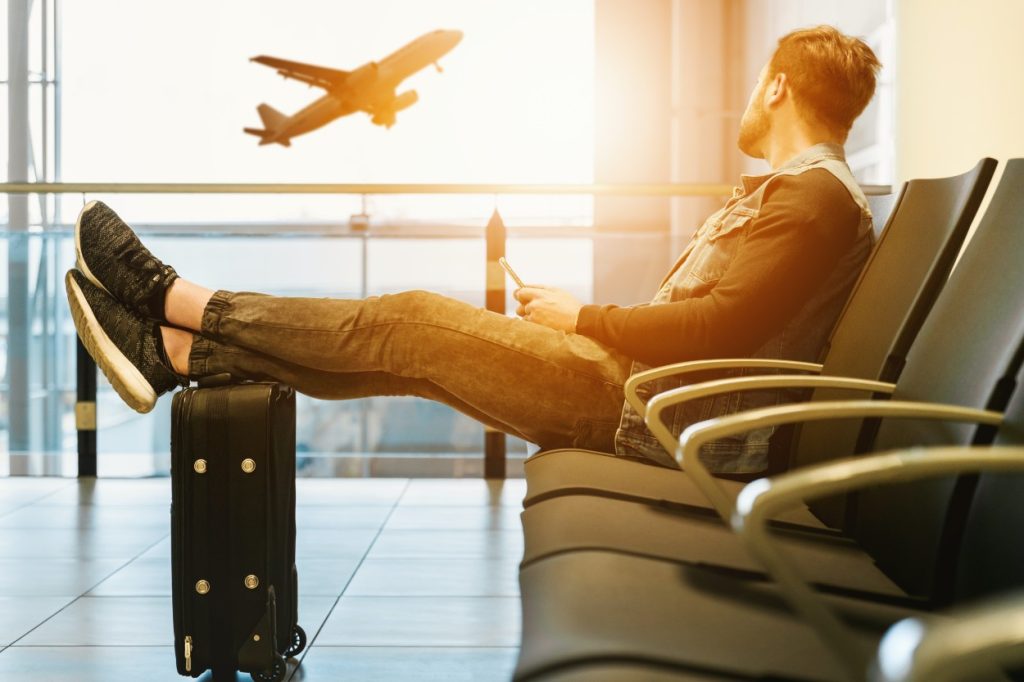 Read our guide on how to pack smart and travel light: 
What Is Considered a Carry-On?

How to Pack Your Carry-On the Right Way

What is Not Allowed in a Carry-On?

Other Frequently Asked Questions

Travel Light When Packing Your Carry-On Luggage
What Is Considered a Carry-On?
Carry-on regulations may differ between airlines and countries, so it's important to check your airline's requirements. For American Airlines and Delta, passengers may bring one carry-on bag and one personal item. 
Carry-on bags should not exceed 22" x 14" x 9" (56 cm x 36 cm x 22 cm), including wheels

Personal items should not exceed 18" x 14" x 8" (56 cm x 92 cm x 39 cm)

Carry-on luggage has no weight limit (this may change if traveling abroad)
Carry-on bags should fit easily in the overhead compartment. Personal items such as small backpacks, laptop bags, and purses should fit easily beneath the seat in front of you.
How to Pack Your Carry-on the Right Way
When planning how to pack a carry-on, prioritization and expert folding are key! Follow our 3 tips for a perfect carry-on bag:
1. Plan Adaptable Outfits
Pack neutral wardrobe staples that you can mix and match. Then, use one statement piece to change your overall look. 
For example, 2 shirts, 2 pants, and 1 jacket can give you upwards of 8 outfit combinations. Add in 1–2 small accessories, and you're golden. Adjust how much you pack depending on the length of your stay, but never skimp on underwear or socks!
2. Fold Using the Marie Kondo Way
If you haven't discovered the tidying consultant Marie Kondo's folding videos, you're in for a treat! Kondo folds clothes into rectangles to keep them compact and save space. Shirts and pants should be folded, while underwear may be rolled into a tight log.
3. Keep Essentials Reachable
Put your toiletries in a clear plastic bag, keeping all liquids in 3.4 oz containers. Place your toiletries on top of your clothes for easy access when going through TSA lines. 
If you have any medication or other essentials, consider keeping them in the front pockets of your carry-on luggage or backpack to grab as needed.
What is Not Allowed in a Carry-On?
The TSA's carry-on regulations detail which items you can and can't bring. You may find that some items are allowed in your checked bag but not in your carry-on (and vice versa). When in doubt, refer to TSA guidelines for more information.
Firearms, Large Sharp Objects, and Explosives
In general, self-defense items and weapons are not permitted as carry-on items. However, the TSA lists special instructions on how to safely package, declare, and transport firearms and sharp tools in your checked luggage.
Alcohol Over 140 Proof
You may not bring any beverage over 70% (140 proof) alcohol in your carry-on luggage or checked bag. That includes grain alcohol and 151 proof rum.
Flammable Liquids, Chemicals, and Items
Flammable liquids and dangerous chemicals are prohibited on your carry-on luggage and checked bag. These include: 
Aerosol cans

Fireworks 

Spray paint

Fertilizers

Chlorine

Bleach
You may bring arc lighters, plasma lighters, electronic lighters, and E-lighters in your carry-on bag, but you must follow specific TSA instructions to prevent accidental fires. When in doubt, consult the TSA's website or leave it at home!
Other Frequently Asked Questions
Can I Bring a Personal Item Along With My Carry-On?
Yes! We allow passengers to bring a personal item along with their carry-on luggage, such as a purse, laptop bag, or small backpack.
How Many Carry-On Bags Am I Allowed to Bring? 
We allow one carry-on bag and one personal item per passenger.
Can I bring a laptop in my carry-on? 
Yes, we generally allow laptops and other hand-held electronic devices like tablets and gaming devices in carry-on bags.
What happens if my carry-on bag exceeds the size or weight limits? 
If your carry-on exceeds our size or weight limit, you may be required to check it in and additional fees may apply. 
Contact Ithaca Tompkins International Airport for any other questions.
Travel Light When Packing Your Carry-On Luggage
Keep our packing tips in mind the next time you're unsure about how to pack a carry-on for your weekend getaway! 
Make sure your bag fits carry-on regulations

Bring clothes to plan your outfits

Make sure that your carry-on items meet the TSA's guidelines
Ready to pack like a pro and breeze through your next trip? Experience stress-free travel when you fly with  Ithaca Tompkins International Airport.
View more posts