5 Tips for Summer Vacation Flights
With summer vacation around the corner, now is a great time to book your flights and enjoy the sun!
Ithaca Tompkins International Airport (ITH) offers two daily flights to New York City's John F. Kennedy International Airport (JFK) and Newark Liberty International Airport (EWR) to meet all your traveling needs.
Follow Roxan Noble's (Airport Director, ITH) travel tips to keep you organized, efficient, and safe when going through airport procedures.
5 Tips for Summer Vacation Flights
Arrive Early for Check-In

Review (and Bring) Your Documents

Travel Light, If Possible

Dress for Success

Prep for TSA Lines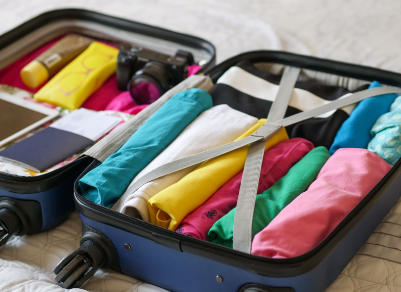 1. Arrive Early for Check-In
It's good practice to arrive 90 minutes before your flight, especially if you've booked one of our two early morning flights since they depart around the same schedule.
Airlines close the gates 30 minutes before takeoff, so you'll have to account for that. Arriving early will give you enough time to go through security and find your gate before boarding. 
2. Review (and Bring!) Your Documents
Keys, wallet, phone? When traveling, you should double-check that you've got all your documents with you! This includes your:
A passport for international flights

A boarding pass (digital or paper)
Additionally, make sure your boarding pass is ready to be checked when you enter security.
3. Travel Light, If Possible
If you're going on a shorter trip, it's a good idea to travel with just a carry-on. This allows you to avoid lines at check-in counters and baggage claim!
When packing, make sure that: 
Any liquids

fit into a one quart-sized Ziploc bag

Liquid containers must be 3.4 ounces or smaller
When in doubt, you can always purchase travel-sized toiletries or any necessities at your destination for ease!
4: Dress for Success
Going through TSA lines is a lot easier if you wear comfortable clothing. 
Travel shoes that are easy to remove and put on are a game-changer! They make walking between terminals easier and your flight more enjoyable.
5. Prep for TSA Lines
When going through security, you'll need to have the following ready to scan:
Present your one-quart Ziploc bag with any liquids

Take out your electronics such as laptops, cell phones, and gaming devices

Remove your shoes, belt, keys, wallet, and phone
Fly Ithaca Tompkins International Airport
This summer, fly through ITH to reach your next vacation spot! With affordable parking options, shorter security lines, and summer destinations that are just one flight away, ITH is a great option this season!
View more posts