Discover Ithaca, NY – a Beautiful Place to Visit
Your Destination Just Got Better
There are many beautiful places to visit in New York, but if you are planning a stay in Ithaca, you won't be sorry. You will be intrigued by the many things to do in this beautiful city located on Cayuga Lake in the Finger Lakes Region.
With a population of 31,000, Ithaca allows you to  enjoy that small-town feel with the cultural qualities found in large metropolitan cities. Named after the Greek island of Ithaca in Homer's Odyssey, a major "attraction" is the world famous Cornell University with famous alumni including Ruth Bader Ginsburg, Bill Nye the Science Guy, and Christopher Reeve.
Ithaca is recognized for its beautifully scenic waterfalls that include Ithaca Falls located close to the downtown area, Cascadilla Falls, Southwest, and Buttermilk Falls. There are an astounding 100 falls within a 10 mile radius of downtown that will leave you amazed!
Greek Peak Mountain Resort, New York State's largest ski resort, is a short 25-minute drive from the city. Greek Peak is a respected partner of Ithaca Tompkins International Airport. Not visiting during ski season? No worries. You can still enjoy the resort as you watch newly-released, family-friendly  movies on the 28' x 16' screen at the Outdoor Adventure Center. 
Some of the most remarkable parks are draped along the Finger Lakes Region. If you're looking to camp, we suggest Taughannock Falls State Park or Watkins Glen State Park where you'll find hiking trails and outstanding fishing in Seneca Lake, a short drive away.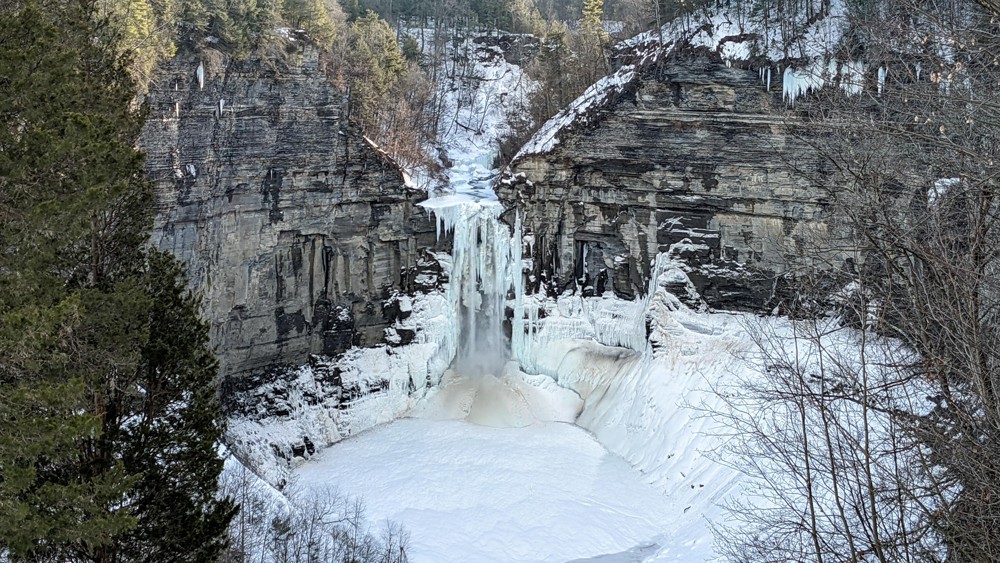 Both these parks are a nature-lovers haven. With a 215-foot waterfall along with campsites and cabins,Taughannock Falls State Park has scenic views overlooking Cayuga Lake. Watkins Glen offers 305 campsites and is home to an olympic-size swimming pool. It has a magnificent glen with 200-foot cliffs that have created 29 waterfalls.
Fall Creek is a hotspot for fishing. With almost 11 miles of Public Fishing Rights, you'll find brown trout, smallmouth bass, and brook trout.
Visit in the fall and enjoy Robert H. Treman State Park that offers natural pools and large wooded gorges, along with Enfield Glen, a picturesque highlight of the park. Hike all six trails there and take in more breathtaking gorges. 
After a day of hiking trails and visiting nature at its best, visitors love to visit the famous Restaurant Row located on Aurora Street in downtown Ithaca. You'll find a huge variety of ethnic options – Mexican, Japanese, Korean, Ethiopian, Thai, Italian, American – you want it, you'll find it. After your meal, stop in at Sweet Melissa's, located on 200 West Seneca Street and treat yourself to a soft ice cream cone. 
Along with the variety of restaurants, downtown also offers live music, street art, and a special area of walkway known as The Commons. With more than 100 independently-owned shops, boutiques, art galleries and more, it's a great area to stroll and enjoy the life of our city. 
After visiting Ithaca, you will agree with Ithacans as they hold near and dear to their hearts this phrase – Ithaca is Gorges. Enjoy your stay and see you back at Ithaca Tompkins International Airport soon.
View more posts