First African American Flight Attendant Takes Flight from ITH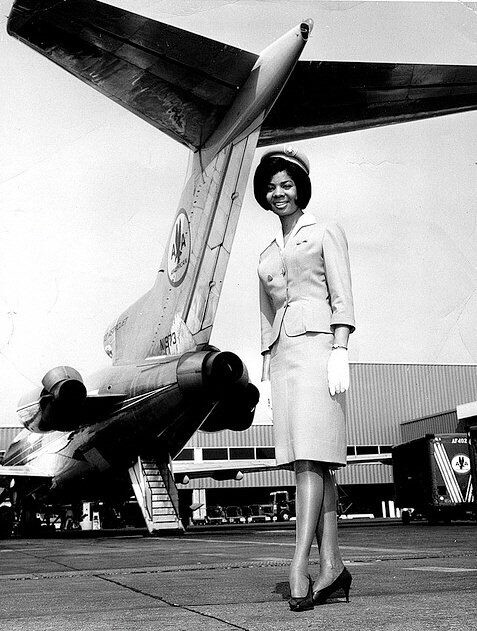 In December 1957, Mohawk Airlines hired Ruth Carol Taylor as the first African American flight attendant in the United States.
Born in Boston, MA, on December 27, 1931, she and her family moved to upstate New York at a young age, where they lived on a farm in the Finger Lakes Region. Taylor grew up on her farm and graduated from Trumansburg High School. 
Taylor continued her education by attending Elmira College in upstate New York and went on to graduate from Bellevue School of Nursing in New York City in 1955, beginning her career as a registered nurse at just 24 years old. She would spend the next few years in New York working as a nurse before making aviation history. 
Taylor applied to be a flight attendant for Trans World Airlines (TWA) in 1957, with a goal to become the first African American flight attendant and break the color barrier within the industry; Taylor was rejected due to the color of her skin. She filed a complaint against TWA with the New York State Commission of Discrimination. While TWA faced no consequences, other airlines began to reconsider their discriminatory hiring policies, with some expressing interest in hiring minority flight attendants. In December of 1957, Taylor was hired by Mohawk Airlines, where she was selected out of a competitive pool of 800 applicants.
Within a few months, Taylor completed her training, and on February 11, 1958, she made history as the first African American flight attendant. Her first flight on the job took off right here at the Ithaca Tompkins International Airport (ITH), heading to JFK Airport in New York, NY. Taylor worked as a flight attendant for six months until another discriminatory rule led to the end of her career. Flight attendants were not allowed to be married, and Taylor was soon to be wed, which forced her to resign from the airline industry. 
Taylor returned to New York in 1977 to resume her work as a nurse. She continued to fight for equality after her resignation, co-founding the Institute for Inter-Racial Harmony and later publishing her book, "The Little African American Book: African American Male Survival In America." Reflecting on her time as a flight attendant, Taylor admitted she did not have aspirations to work for an airline; rather she was driven by the desire to break racial barriers: "It irked me that people were not allowing people of color to apply… Anything like that sets my teeth to grinding."
Fifty years after becoming the first African American flight attendant in the United States, Taylor's accomplishment was formally recognized by the New York State Assembly. Today, Taylor is 90 years old and resides in Brooklyn, NY. 
We are proud to be a part of Taylor's inspirational story, which we know will continue to inspire future generations.
View more posts