Dr. Martin Luther King Jr.'s Visit to Ithaca
In celebration of Black History Month, the Ithaca Tompkins International Airport (ITH) would like to highlight one of the many significant individuals who contributed to our nation's fight for equality.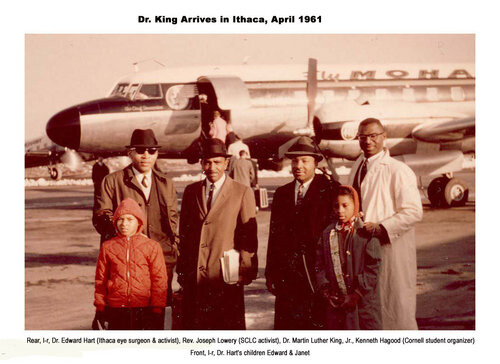 In April of 1961, Dr. Martin Luther King Jr.'s aircraft flew into ITH for his second visit.  On each of these visits he was asked to speak at Cornell University, and during this visit he was asked to speak at Bailey Hall, which was sponsored by the Cornell Committee against Segregation and Ithaca Freedom Walk Committee.  The chairman of the committee, Edward Hart, met King at the airport, alongside Rev. Joseph Lowrey,  Kenneth Hagood, and Hart's two children (pictured).
Hart recalled a 'torchlight parade' bringing Dr. King to Bailey Hall as he prepared to give his speech. They arrived to a crowd of approximately 2,500 attendees who listened with rapt attention to his speech titled "Non-Violence and the Achievement of Desegregation". During his speech Dr. King expressed many notions, stating, "We cannot afford to slow up. There are too many people in this nation today without the rights this government has guaranteed them."
Dr. King's first visit to our area was in 1960, after delivering a sermon at Sage Chapel, he flew from Ithaca, to New York City, to London, to Nigeria for the inauguration of their first president.
View more posts