Our Military Courtesy Room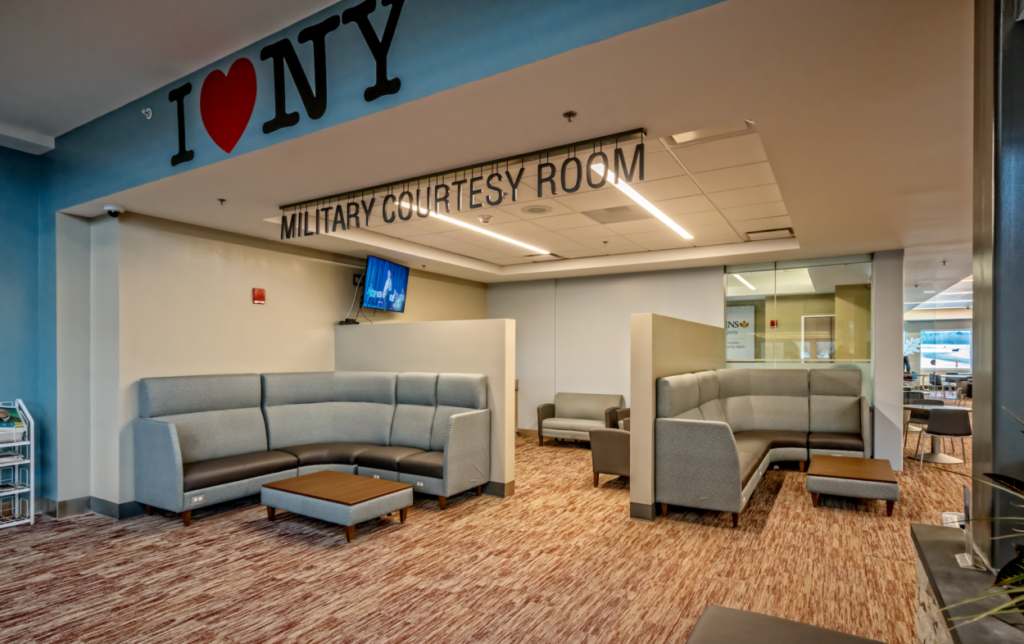 The Military Courtesy Room was a new addition in the 2019 renovation of the Ithaca Tompkins International Airport, and it's a space that our airport is very proud to offer. The room is located pre-security near the café, and includes sofas, cable TV, a sink, microwave and more.
Airport Director and Retired Air Force Maj. General Mike Hall is particularly proud of the new addition and hopes that it will be utilized by veterans and active duty servicemen and woman as they pass through the airport.
"Our military courtesy room provides a more private space for military members and veterans to spend time with family and friends, or just relax," says Hall, "and it's an opportunity to say, 'Thanks for your service'".
J.R. Clairborne, Director of the Tompkins County Department of Veterans Services sees the space as a very important addition not only for the airport but for the community as well.
"As a Veteran, the Military/Veterans Courtesy Room at ITH makes a great, welcoming statement about the community's support of the Veteran and military community. I have appreciated visiting the Veterans lounges in places like Detroit and Syracuse because it lets me know my service, as well as that of all Veterans, to our country matters," says Clairborne.
Clairborne sees the room as a good multipurpose space, noting "A Veteran with their family or an active duty member awaiting their flight can use it as a quiet or relaxing place. The family accompanying someone on active duty shipping out on orders or returning to duty can use it as a gathering place before departure, as it has been used already. It will be great if the space or adjoining conference room gets used as a meeting or gathering space by local Veterans organizations or a group of veterans just getting together."
"As word spreads around the County about this space for Veterans and current military members, we'll look forward to seeing its use for many things positive for our community of Veterans," Clairborne concluded.
View more posts