Moment of Movement: Giving Our Youth a Flying Start Raises More than $25,000 for Local Families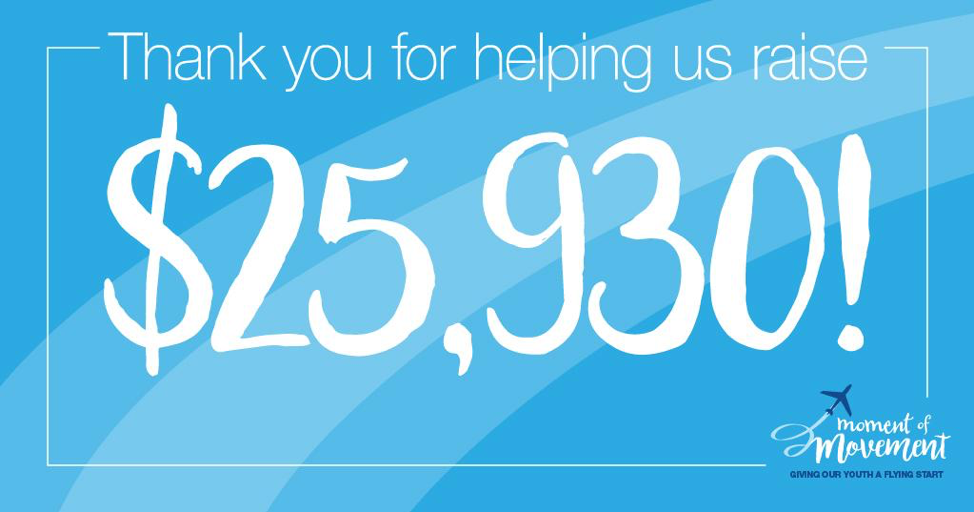 On Saturday, September 26, the Ithaca Tompkins International Airport (ITH) and Ithaca Marriott Downtown on the Commons hosted Moment of Movement: Giving Our Youth a Flying Start and raised $25,930 for local families impacted by the COVID-19 pandemic.
"I am so proud of our community for coming together for this great cause and am thrilled we were able to host it at ITH," said Mike Hall Airport Manager of ITH. "This is a real testament to the strength of our community."
All proceeds of Moment of Movement will provide childcare and enrichment activity resources to families as well as help employers retain their workforce. The funds will be allocated to United Way of Tompkins County and Ithaca Youth Bureau to support a variety of programs.
James Brown, President and CEO of United Way of Tompkins County shared "Moment of Movement unfolded and created a morning of community, exercise, fun, and funds for important local programs." Brown added, "Moment of Movement, like so many other local creative philanthropic events, demonstrates our collective abilities to identify a problem and quickly develop and rollout efficient and effective solutions."
Cathy Hart, General Manager of the Ithaca Marriott Downtown on the Commons, shared "Our first ever Moment of Movement was awesome! We had a beautiful day and a wonderful event and it could not have been for a better cause." Hart added, "I will say, having airplanes take-off or land nearby while exercising could easily become addictive-it takes your mind off what your body is going through as you imagine where folks are headed!"
On the day of the event, approximately thirty community leaders participated in a live workout led by FLX Fitclub on ITH's tarmac while adhering to New York State social distancing requirements. Others took part in the livestreamed workout remotely.
Amongst the community members on the tarmac was Mary Opperman Vice President of Human Resources at Cornell University. On the event, Opperman stated, "It was great to get outside on such a nice day to exercise and see others in a physically distant, safe way. The team from FLX Fitclub was wonderful and made the opportunity to move and increase our heart rates really fun. Most importantly, we were raising money in support of the youth in our community. What could be better?"
The idea for the fundraiser was based on the community's critical need for childcare resources, which have been challenged by the COVID-19 pandemic. As caregivers re-enter the workforce, many are in need of immediate childcare assistance.
On the community's critical need for childcare resources especially in the time of COVID, Sue Dale-Hall CEO of the Child Development Council stated "I am hearing about the need for childcare every day, but parents are struggling to find it and pay for it. I was so encouraged by the enthusiasm at Moment of Movement because clearly, everyone sees the value of childcare for parents, business and our community to thrive."
Ithaca Youth Bureau Director Liz Klohmann shared "The money raised at the Moment of Movement event will go toward scholarships that will keep young people involved in afterschool activities and enrichment programs throughout the year. Thank you to everyone who participated in the event and/or made donations. We can't wait for the Moment of Movement event next year!"
Moment of Movement would like to thank the Ithaca Voice for being its Media Sponsor as well as several other corporate donors who assisted in the fundraising efforts.
View more posts