A Guide for Holiday Air Travel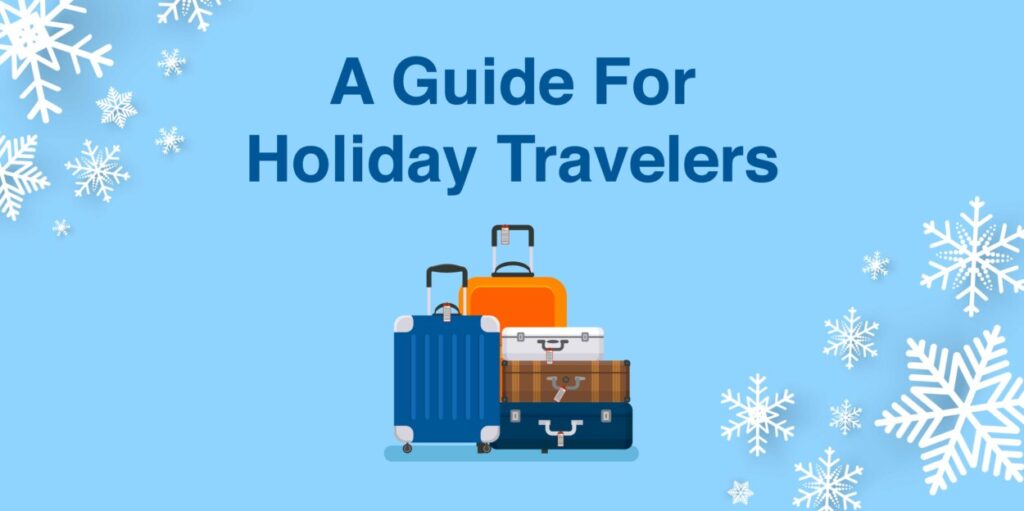 Air travel for the upcoming holiday season is going to look quite different than in the past. In a typical year, over 100 million Americans would be booking travel plans during the holiday season; in 2019 that number soared to over 115 million. Although the next few months will show a drastic decrease in air travel compared to previous years, there are still many Americans planning to safely travel for the holidays, and we have a few tips and reminders to help make this possible.
Before Traveling
Check local requirements and restrictions
State, local, and territorial governments may have travel restrictions in place, including testing requirements, stay-at-home orders, and quarantine requirements upon arrival. Follow state, local, and territorial travel restrictions. For up-to-date information and travel guidance, check the state and local health department websites where you are, along your route, and where you are going. Prepare to be flexible during your trip as restrictions and policies may change during your travel. Save yourself unpleasant surprises and delays by checking for restrictions days in advance and right before you travel, as restrictions can change rapidly depending on local conditions.
For any traveler to New York State from a noncontiguous state, US territory or CDC level 2 or level 3 country, the new guidelines for travelers to test-out of the mandatory 14-day quarantine are below:
For travelers who were out-of-state for more than 24 hours:

Travelers must obtain a test within three days of departure, prior to arrival in New York.
The traveler must, upon arrival in New York, quarantine for three days.
On day 4 of their quarantine, the traveler must obtain another COVID test. If both tests come back negative, the traveler may exit quarantine early upon receipt of the second negative diagnostic test.
Be sure to contact local health departments to determine where you can get tested. For more information on New York State travel guidelines, click here.
While Traveling
The latest scientific evidence has reassured that being onboard an aircraft is relatively safe, due to the high air quality, but steps must be taken by travelers to ensure their safety throughout the entire travel process, such as inside terminals, jet bridges, etc.
At ITH, there are very low volumes of passengers inside the terminal and plenty of room to social distance. Further, we are constantly sanitizing all high-touch points. We encourage you to use contactless check-in, which our airline partners offer.
The Centers for Disease Control and Prevention (CDC) recommends following these steps to protect yourself and others when you travel:
Maintain a distance of 6 feet between you and others as much as possible.
Avoid contact with anyone who is sick
Limit contact with frequently touched surfaces, such as handrails, elevator buttons and kiosks. If you must touch these surfaces, use hand sanitizer or wash your hands afterward.
Wear a cloth face mask.
Avoid touching your eyes, nose and mouth.
Cover coughs and sneezes.
Clean your hands often. It's especially important after going to the bathroom, before eating, and after coughing, sneezing or blowing your nose.

Wash your hands often with soap and water for at least 20 seconds.
If soap and water aren't available, use a hand sanitizer that contains at least 60% alcohol. Cover all surfaces of your hands and rub your hands together until they feel dry.
Our Airline Partners have implemented extremely high-quality cleaning practices, scrubbing touchpoints with high-grade disinfectants and introducing "fogging processes" used in many healthcare facilities. A Harvard Study released in late October found that air circulation and mask wearing on flights can reduce the transmission of SARS-CoV-2 to lower than 1%. Therefore, it is imperative that all passengers wear a face covering aboard aircraft. Furthermore, Delta Air Lines is committed to leaving its middle seats open during the holidays, now through Jan. 6 to allow for more distance between passengers.
Once you arrive at your destination, continue to maintain social distance while leaving the airport, follow the local guidelines, monitor your health and be cautious.
We wish you a safe, happy, and healthy holiday season!
View more posts