5 Fast Facts About Charlotte Douglass International Airport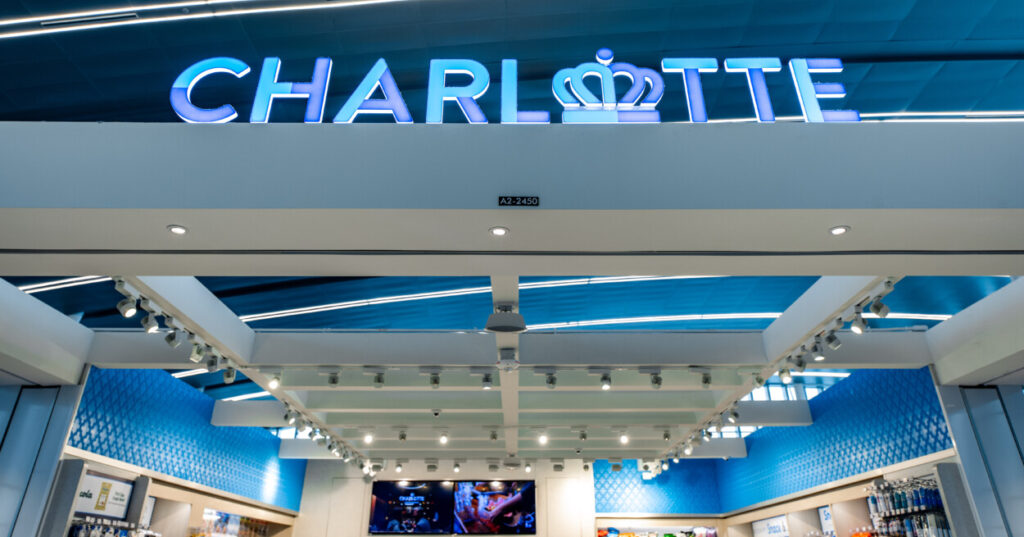 American Airlines now offers daily service to and from Charlotte Douglass International Airport (CLT), American's second largest hub. CLT is a very well-connected, innovative and customer-focused airport. We put together some fast facts to help you get familiar with CLT so you can know what to expect if you utilize the new daily service for any upcoming travel.
Service & Amenities
A major hub for American Airlines, CLT serves over 150 nonstop destinations around the globe with over 500 daily flights. The airport has four runways and one passenger terminal with 115 gates (more than any other single airport terminal building in the U.S.) divided between five concourses. In 2019, Charlotte was ranked the sixth-busiest airport in the world in terms of aircraft movements. The airport saw over 1 million arrivals and departures in the month of October 2020.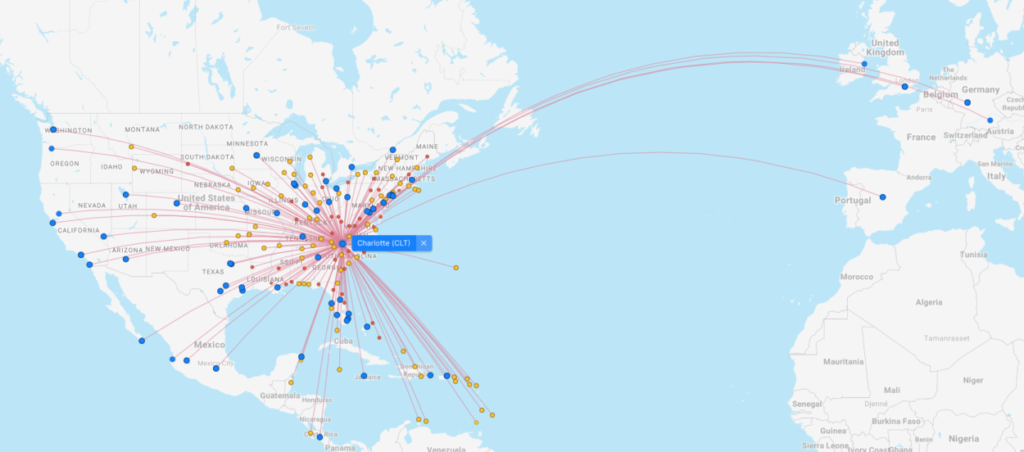 The most recent "CLT Cities Served Report" with information about what service is temporarily suspended due COVID-19 can be found here.
CLT offers several amenities including wifi and charging stations, mother's rooms, pet relief areas, currency exchange, USO Lounge, interfaith chapel and more.
Checkpoint Wait Times
 Passengers at Charlotte Douglas International Airport can now view security checkpoint wait times via CLT's website and app before arriving at the terminal. The Airport has partnered with CrowdVision to provide the user-friendly amenity to flyers.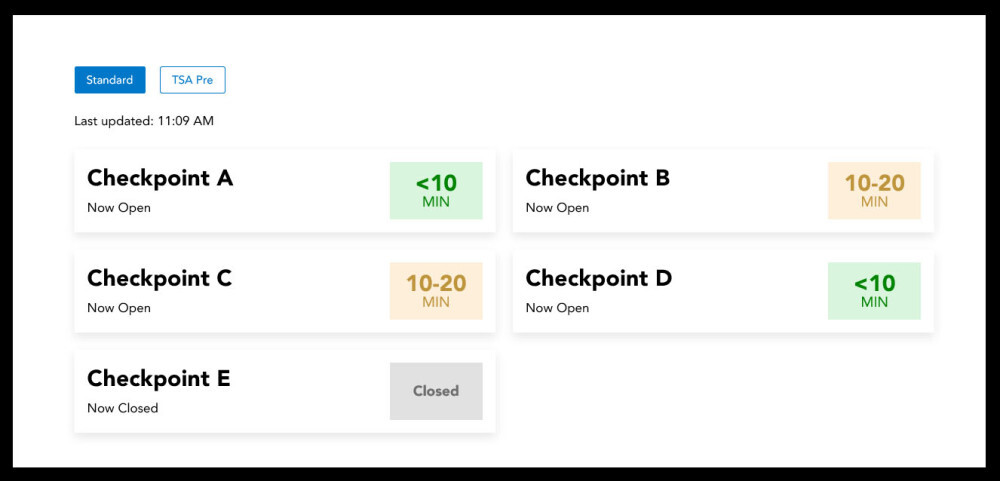 You can download the all-in-one Airport app for checkpoint wait times, real-time flight tracking, dining, shopping and amenity guide, indoor navigation and real-time parking map.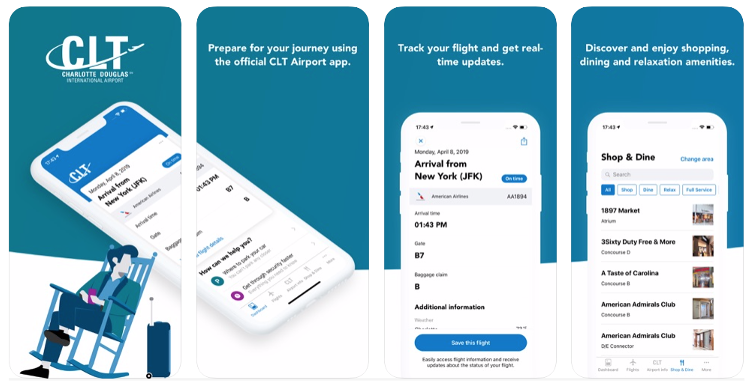 COVID-19 Response
 Airport housekeeping is 24/7 but has ramped up to monitor cleanliness throughout the terminal and special attention is given to high touch points. Each night, the terminal's public spaces are deep cleaned with an electrostatic disinfectant sprayer.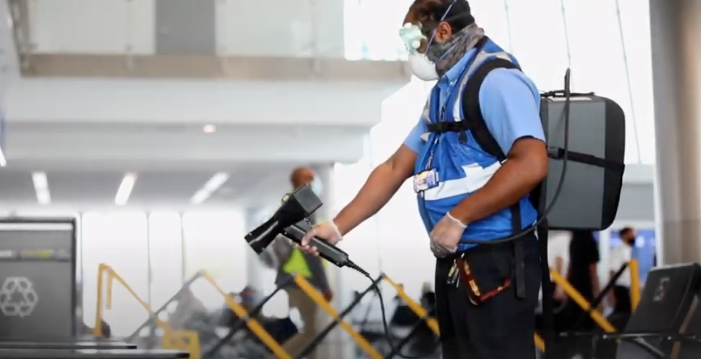 When soap and water are not readily available, CLT has 60 hand sanitizing stations throughout the terminal. You can find locations on any terminal map or on cltairport.com.
TSA is allowing one liquid hand sanitizer container, up to 12 ounces per passenger, in carry-on bags. Passengers are required to remove the hand sanitizer from the carry-on bag before being submitted for X-ray screening.
Face coverings are required at CLT. Passengers who need a mask can pick one up at the TSA checkpoint podiums and at the visitor information counter in Baggage Claim on the lower level. All airlines also require a mask to board a flight.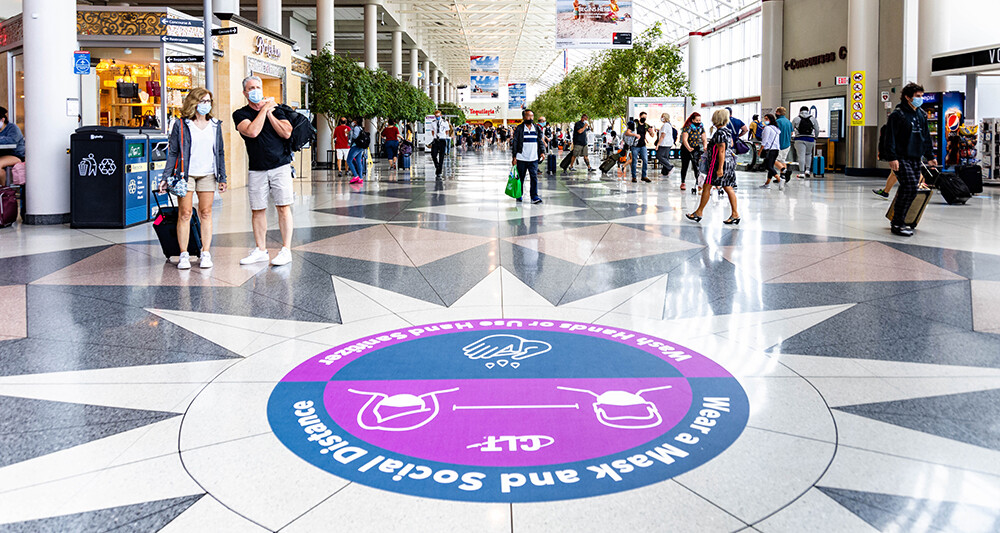 All primary and final air filters in the terminal are designated MERV 13, which traps 98 to 99 percent of airborne particles as small as .3 microns. The pleated filter uses an electrostatically charged filter media to remove very fine particles from the air, even particles that carry viruses.
Click here for CLT's most frequently asked questions about wearing a mask, social distancing and cleaning.
Sustainability

Charlotte Douglas International Airport recently added five electric buses to its vehicle fleet as part of CLT's sustainability commitment to pursue fiscally responsible practices that minimize environmental impacts. The buses transport passengers to and from the terminal. The Airport has plans to replace its 70 diesel-powered buses with 50 electric buses over the next seven to 10 years.
Shuttle buses are cleaned at the end of each shift with electrostatic spray and cleaning agents to combat the spread of COVID-19.
Awards
 CLT has received the prestigious Eagle Award from the International Airport Transport Association (IATA), for "Best Airport". It is considered the most distinguished of awards in the aviation industry. CLT was recognized for its quality service and economical value to airline customers.
View more posts