Messages From Our Airline Partners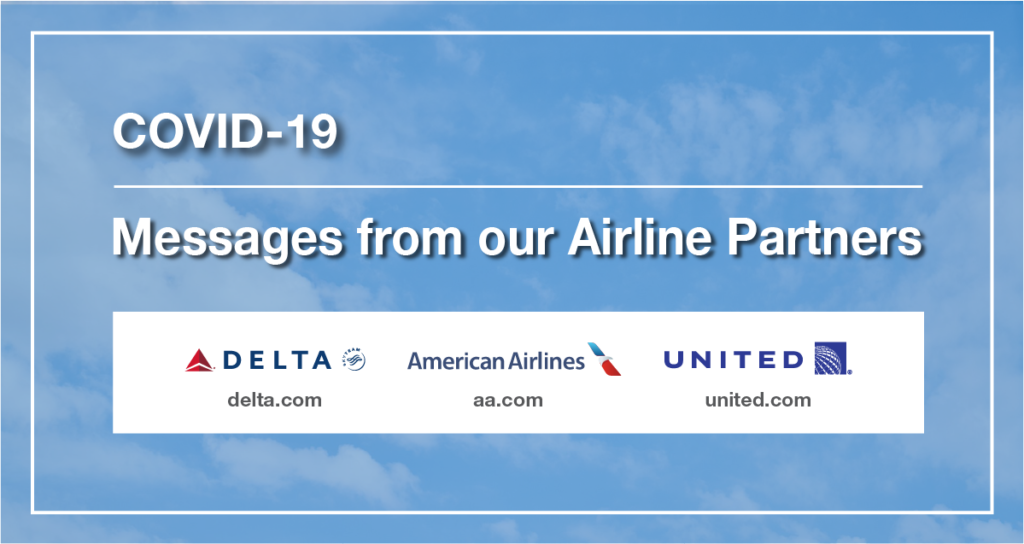 Delta
 CEO Ed Bastian has released several messages detailing the specific steps that Delta has taken to ensure safety for passengers and employees.
The latest message also mentioned how Delta is helping in the fight against COVID-19, including the transport of medical supplies, repatriation flights, and free flights for medical volunteers to certain U.S. regions that have been significantly impacted by COVID-19.
In addition, he outlined the safety measures that are being taken, such as fogging each aircraft and the sanitization of all high-touch areas like tray tables, screens, armrests and more. "If a plane doesn't pass our spot check before you board, our teams are empowered to hold the flight and call back the cleaning crew," said Bastian.
Delta has also made it easier to change or cancel flights with no fee via My Trips on Delta.com
Bastian also emphasized how Delta is planning for the future, writing, "The measures we are taking to protect you, our people and our company will result in a flying experience that's different from what you typically expect from Delta. We appreciate your patience and understanding as these temporary changes to our amenities and service are implemented. We are committed to bringing them back as quickly as possible when the crisis passes. With reduced flights for the time being, we know close-in schedule changes can be challenging. We encourage you to download the Fly Delta app and check your flight status before you leave for the airport and appreciate your patience as we navigate this unprecedented time together."
For more COVID-19 related information and updates from Delta, click here.
 ______________________________________________________________________________________
American
 The latest message from Kurt Stache, Senior Vice President of Customer Experience for American Airlines, described the current changes AA has made during the COVID-19 crisis. In a video, Stache explains the airline's new relaxed seating policy (50% of middle seats will be blocked) and reduced food and beverage service to help customers and team members practice social distancing. He also explains additional Admirals Club closures and service changes. Lastly, he details the temporary suspension of checked pets (in-cabin pets and emotional support animals are still allowed).
In terms of safety, "Our cleaning practices have always met or exceeded all CDC guidelines. Our aircraft are cleaned each day at key touchpoints on their journeys with an EPA-approved disinfectant. Most of our aircraft have High-Efficiency Particulate Air (HEPA) filters that provide a complete air change approximately 15 – 30 times per hour.  We're providing hand sanitizer and sanitizing wipes for crew members on all international flights."
American is also continuing to take care of customers by providing additional flexibility in purchasing future travel by extending its offer to waive change fees for customers who purchase tickets through April 15. The offer is available for any of American's published nonrefundable fares. Additional details can be found on aa.com/travelalerts.
For more COVID-19 related information and updates from American, click here.
__________________________________________________________________________________________
United
CEO Oscar Munoz released a message revealing specific steps that United has taken to help in the fight against COVID-19. "Right now, aircraft flying the United livery and insignia, flown by our aviation professionals, have been repurposed to deliver vital medical supplies and goods to some of the places that need it most. We're also using several of our idle widebody aircraft to use as dedicated charter cargo flights, at least 40 times per week, to transfer freight to and from U.S. locations as well as to key international business locations. At the same time, we are working in concert with the U.S. State Department to bring stranded Americans who are trying to return home back to their loved ones."
In terms of change fees and cancellations, United says that if you're scheduled to travel March 10 – May 31, 2020 and would like to change your plans, there is no fee to do so, regardless of when you purchased your ticket or where you're traveling. If you decide to cancel your flight, you can retain the value of your ticket to be applied to a new ticket without fee for travel up to 12 months from the original issue date. For more details and step-by-step instructions click here.
United is taking very similar safety steps as our other airline partners, including a shift to primarily pre-packaged in-flight food and sealed beverages only.
United also has provided specific steps they are taking before flights, during flights, and after landing. Before each flight, aircraft are cleaned at a variety of touchpoints using an effective, high-grade disinfectant and multi-purpose cleaner.
For more COVID-19 related information and updates from United, click here.
View more posts