ITH Communication Regarding COVID-19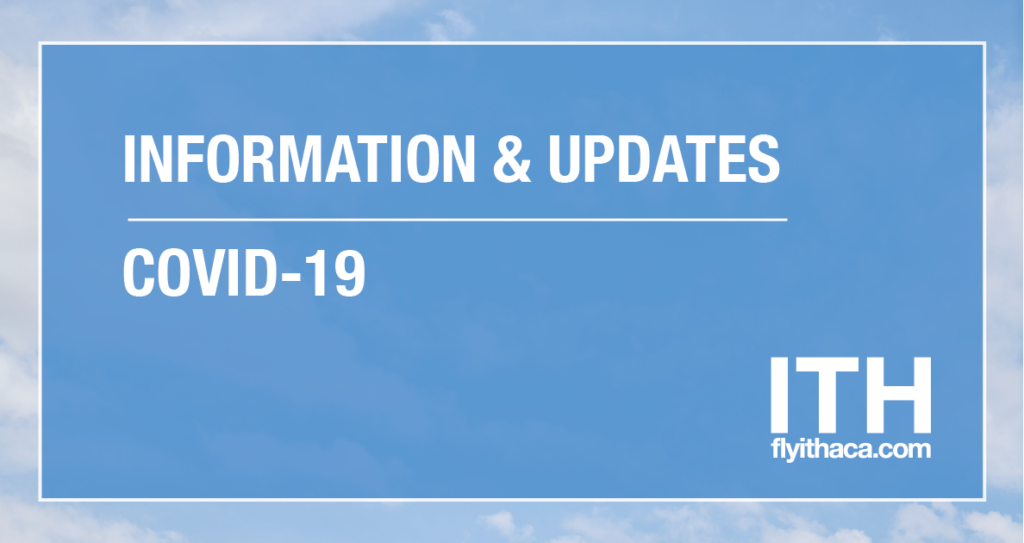 The Ithaca Tompkins International Airport's leadership team is closely monitoring the developments related to COVID-19 regionally and globally. Our team is doing everything possible to ensure the safety of our passengers and employees. At this time, Ithaca Tompkins International Airport (ITH) is operating under normal conditions and working closely with airline partners to continue providing service and safe connections. The airport team is working hard to constantly clean and disinfect the terminal and keep sanitizer stocked for passengers to use.
"Air travel will continue to be turbulent for the foreseeable future. Should you decide to fly, please know that the Ithaca Tompkins International Airport and our airline partners are working diligently to protect your health and safety," says Airport Director Mike Hall.
The airport is following the guidance of the Centers for Disease Control (CDC) and the Tompkins County Health Department. The Tompkins County Health Department has a page on their website dedicated to questions and updated information related to COVID-19.
If passengers have questions related to upcoming flights, they should contact the airline directly. Several airlines have announced waivers of ticket change and cancellation fees.
We will continue to provide updates as they become available. We thank you for all you are doing to stay safe during this time.
View more posts