ITH Featured in October 2019 Edition of Business View Magazine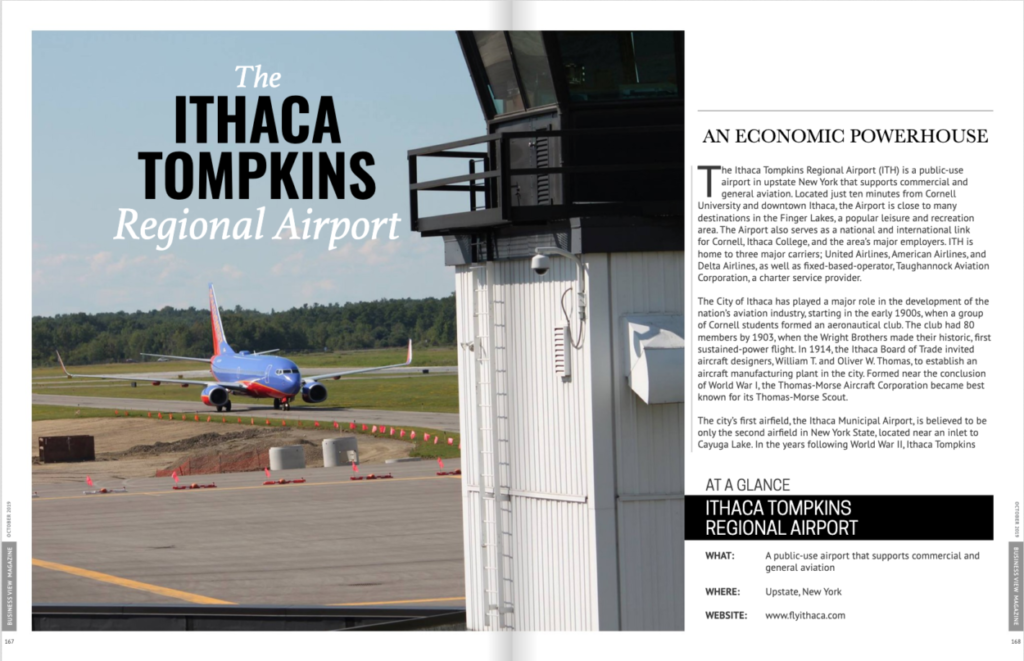 The Ithaca Tompkins Regional Airport is featured in the October 2019 edition of Business View North America, as part of their series on best practices of regional airports! The article beautifully highlights the past, present, and future of ITH, using several quotes from Airport Director, Mike Hall. The article is titled "The Ithaca Tompkins Regional Airport – An Economic Powerhouse", which is further articulated by Hall.
"A lot of people think of airports as a place where you can go to catch a plane to go someplace you want to go on vacation," Hall continues. "That's true and that's important. But, more important, perhaps, is having the influx of people, ideas, and investment that allows you to have a strong enough economy so you have the money to go someplace. The mantra for the Airport is: 'We speak your language; we cook your food; we celebrate your music; you're welcome here.'
The eight-page spread includes photos ranging from Airport Community Day to the progress in the new terminal.
Business View Magazine is North America's source of news for executives, entrepreneurs, small business owners, franchisees, and anyone else interested in current industry trends and best practices. Every month their digital platform covers the latest developments in manufacturing, construction, infrastructure, supply chain and logistics, health care, food and beverage, and energy.
Read the full article here!
View more posts