An Evening Celebration of Aviation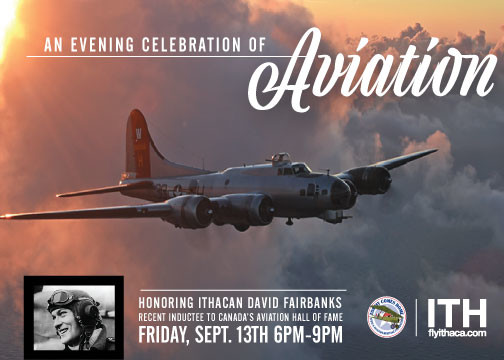 Come celebrate aviation by honoring one of aviation's finest, David Fairbanks, and the one-year anniversary of Tommy's flight, all while dining under the wing of a B17! Tours of the B17 will be available during the event. David Fairbanks, an Ithaca native, was recently inducted into Canada's Aviation Hall of Fame for his many aviation achievements. Proceeds go towards continued aviation education programs presented by the Ithaca Aviation Heritage Foundation.
When: Friday, Sept. 13th from 6pm-9pm
Where: Taughannock Aviation Hangar, 66 Brown Rd, Ithaca, NY 14850
What: Catered meal, cash bar, live musical entertainment, tours of the B17 and presentation honoring David Fairbanks.
Price: Tickets are $50 each, proceeds go to Ithaca Aviation Heritage Foundation's ongoing aviation education programming. Purchase tickets HERE.
Purchase Tickets By: September 9th
Keep the celebration going and come to Airport Community Day on Saturday, Sept. 14th!
Bio:
David Charles Fairbanks was born in Ithaca, New York, on August 22, 1922, to his mother Helena and father Frank, who taught at Cornell University. At age 18, after graduating from Ithaca High School in 1940, David joined the Royal Canadian Air Force.
An American in the Royal Canadian Air Force, attached to the Royal Air Force as a fighter pilot, David Fairbanks received the Distinguished Flying Cross three times. By war's end he had destroyed 15 enemy aircraft.
Following the war, back home in Ithaca, he earned a degree in Mechanical Engineering in 1950 from Cornell University.
On February 20, 1975, this war hero and captain of industry, an American who had become a Canadian citizen, died at the age of 52, survived by his second wife, Betty. In 1976, David Charles Fairbanks was posthumously awarded Canada's oldest and most prestigious aviation trophy, the Trans-Canada (McKee) Trophy, largely in recognition of his contribution to the development of Canada's STOL aircraft technology.
View more posts