5 Reasons to go to Airport Community Day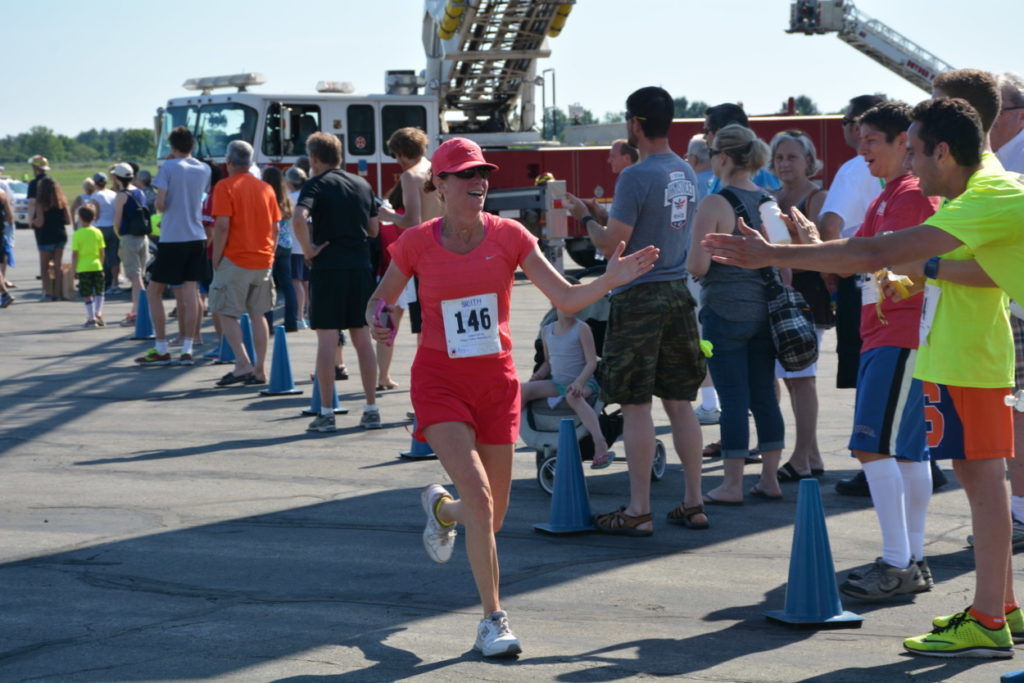 On Saturday, September 14th, the Ithaca Tompkins Regional Airport will open its doors, and its runway, to the whole community! All the activities we have planned are sure to make for an amazing day, so if you're not ready and excited yet, we're here to remind you that there is a LOT to be excited about! Bring the whole family for a day of all things aviation, running, pancakes, unique automobiles, and more! Here are our top 5 reasons to come to Airport Community Day:
B17 – this year is a very special Airport Community Day because you will have the once-in-a-lifetime opportunity to see an incredible World War II aircraft up close and personal. Ground tours and flights will also be available! This B17 is one of ten presently airworthy Boeing B17s, nick named the "Flying Fortress". A few fun facts about the B17: it weighs 65,000 pounds, it can carry a 9,600-pound payload, and it can cruise at a speed of 150mph, peaking at 287 mph. By the time production ended in 1945, 12,731 were built at the pretty price of $238,329 per plane. There were several different models produced, and the B17G was one that was liked the most – this is the model you will see at Airport Community Day! So come take a look and learn about the history associated with an aircraft that helped the Allies achieve victory in World War II!
5K – It's the 5th annual Runway 5K! This is the fifth year we will be closing down our runway for one hour to allow the community to run a flat and fast 5K, with all proceeds benefiting the SPCA of Tompkins County. Most people have probably only experienced a runway from the seat of a commercial airline, but now you have the chance to experience our airstrip from a new perspective – on foot. Bring the whole family to watch or run this fun annual event. Oh and don't forget – first place male and female each receive a $250 travel voucher – if that's any motivation!
Wings & Wheels – You don't have to come to this event via car – you can fly in too! Or you could leave your airplane at home and take the car – it's up to you. Either way, we will have several aircraft flying in throughout the day – some that are very rare and unique. There will be an impressive display of vintage aircraft, along with over two dozen interesting automobiles brought to you by the Upstate New York Car Club. East Hill Flying Club will also be offering affordable scenic flights ($40), if you want to see Ithaca from a new height!
Breakfast & Baked Goods – East Hill Flying Club will be cooking up a delicious all-you-can-eat pancake breakfast from 7am until 1pm! Come hungry – because they will be whipping up New Hope Mills Pancakes with real NYS maple syrup, eggs, sausage, and all the fixings. If you're an early bird and arrive before 9am, you can eat all you want for $7, and after 9am it will be $8. The Rotary Club of Ithaca Sunrise will be doing their annual "Bake-Off" from 10:30 until noon. Come get some scrumptious samples from local bakers, including Dottie's Ice Cream Cake – yum!
Fun for everyone – Whether you bring the whole family, come with friends, or ride solo – we can guarantee everyone will be entertained at Airport Community Day! There will be music, tethered hot air balloon rides, ROTC demonstrations, Cross Roads the Clown will be making his impressive balloon animals, and Trumansburg Ladder Truck will display the flag. The Ithaca SWAT bus, Tompkins County Sheriff K-9 Unit, and ITH Crash Trucks and snow equipment will also be present at the event. See you there!
ALSO – we will have renderings on display for the new and improved terminal! Come see the progress and take a peek at what the end result will look like. We hope you are now convinced to come to Airport Community Day! See you there!
View more posts