If you like Ithaca, you'll LOVE Charlotte!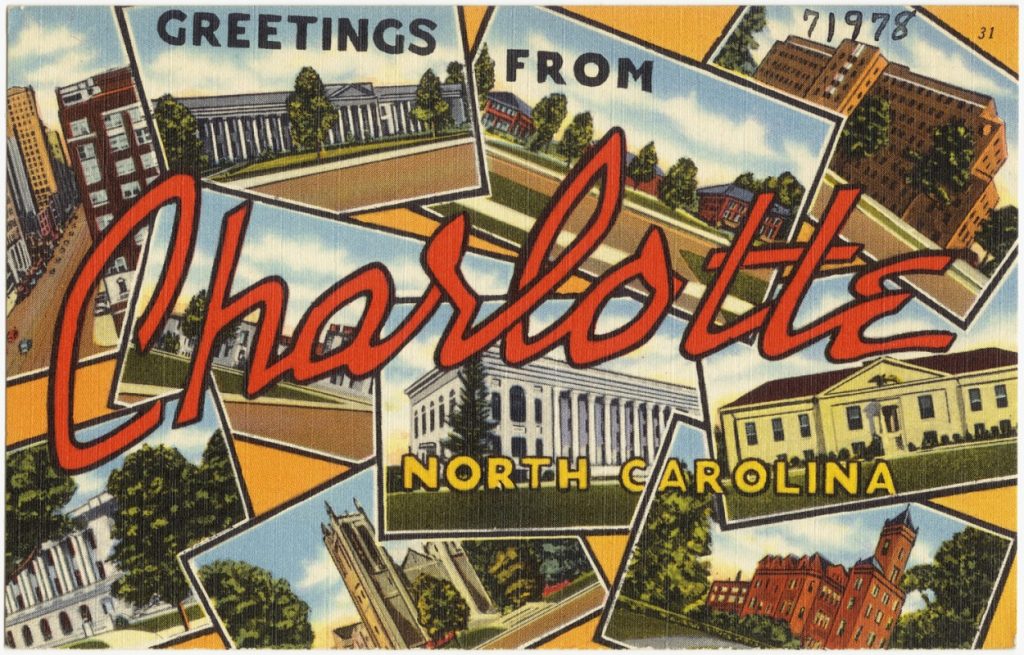 In case you didn't know, we are gearing up to begin the new American Airlines service to Charlotte-Douglas International Airport in a few short weeks! If you enjoy all that Ithaca, NY has to offer, get ready to explore Charlotte, NC! From endless attractions to beautiful scenery, Ithaca and Charlotte have more in common than you'd think. With weekly Saturday flights starting December 22nd, there's just enough time to start planning your trip to Charlotte, NC!
Things to do in Charlotte, NC based on what you like to do in Ithaca:
Art
Ithaca is home to some incredible artwork both in museums and galleries and around town. It's hard not to notice the murals and sculptures throughout Downtown Ithaca and beyond. Similarly, Charlotte is filled with public art that is sure to catch your eye. Sculptures like The Firebird and La Cascade are fixtures of the Charlotte art scene. Just like Ithaca has the John Hartell Gallery and the Herbert F. Johnson Museum of Art at Cornell University, Charlotte has galleries and museums for art lovers to explore. The Bechtler Museum of Modern Art houses the work of masters of modern art such as Pablo Picasso and Alexander Degas. If you'd like to find out more about the art in Charlotte, visit here.
History
Oftentimes getting to know Ithaca is done by visiting its parks and waterways such as Taughannock Falls or Cayuga Lake. Every city has its own unique history, and Charlotte is full of places to learn all about it. Enjoy the outdoors by going whitewater rafting at the U.S. National Whitewater Center, or taking a hike at Grandfather Mountain. If you want to explore the history of the city, there is the Charlotte Museum of History or The Levine Museum of the South. Also, if you enjoyed learning about the history of the Tommy plane, check out the Carolinas Aviation Museum.
Performing Arts
Ithaca is known for its vibrant arts scene. With local venues like The Haunt and Hangar Theatre, you can find a wide range of live entertainment, from ballet, to staged shows and international touring acts. Charlotte is home to larger sites such as the Spectrum Center and PNC Music Pavilion, which house big-name artists and events. Smaller venues such as The Fillmore are just as popular! Also, you can check out plays and performances such as the Charlotte Symphony at Knight Theater. From smooth jazz to soulful jams, live music is abundant in Charlotte. Whether you're looking for country or classic rock – you can catch any kind of concert here. Or check out the North Carolina Music Hall of Fame to learn about music history in Charlotte!
Action
If you know Ithaca, you know the action in and around is enjoyed by all ages. Whether you like catching a race at the nearby Watkins Glen International race track or cheering on the Cornell Men's Hockey team, Ithaca has a variety of fast-paced fun to offer. You can enjoy a lot of this in Charlotte too! The NASCAR Hall of Fame has everything from a racing simulator to featured relics from famed NASCAR drivers. If you're into speed, catch a race at Charlotte Motor Speedway and see how it compares to Watkins Glen International. If you're more interested in checking out a sporting event, you can see the Carolina Panthers of the NFL play right in Charlotte. It is also home to a few minor league teams such as the Carolina Hornets basketball team and the Charlotte Checkers hockey team. You can take in the action almost any night of the week!
Food & Fun
Thanks to the Cayuga Lake Wine Trail and Ithaca Beer Co., Ithaca has cemented its status as a must-see destination for local wines and craft beers. Similarly, there is a number of great places in Charlotte if you're looking to taste something new. There are several vineyards that will remind you of Ithaca's Americana and Six Mile Creek, and they're only a short distance from Charlotte! Much like Ithaca often showcases local vendors, you can find foods and locally made goods at Charlotte's 7th Street Public Market. And while Ithaca has many restaurants and pubs, Charlotte might have it beat with its variety. If there's a cuisine you're missing out on in Ithaca, chances are you'll find it in Charlotte!
Whatever it is that you enjoy in Ithaca, you'll find even more to discover in Charlotte! Starting December 22nd, you'll be on the fast track to all that Charlotte has to offer. Don't miss out on all the action – book your non-stop ITH to CLT flight on American Airlines today!
View more posts