Meet the ITH Team – Josh Nalley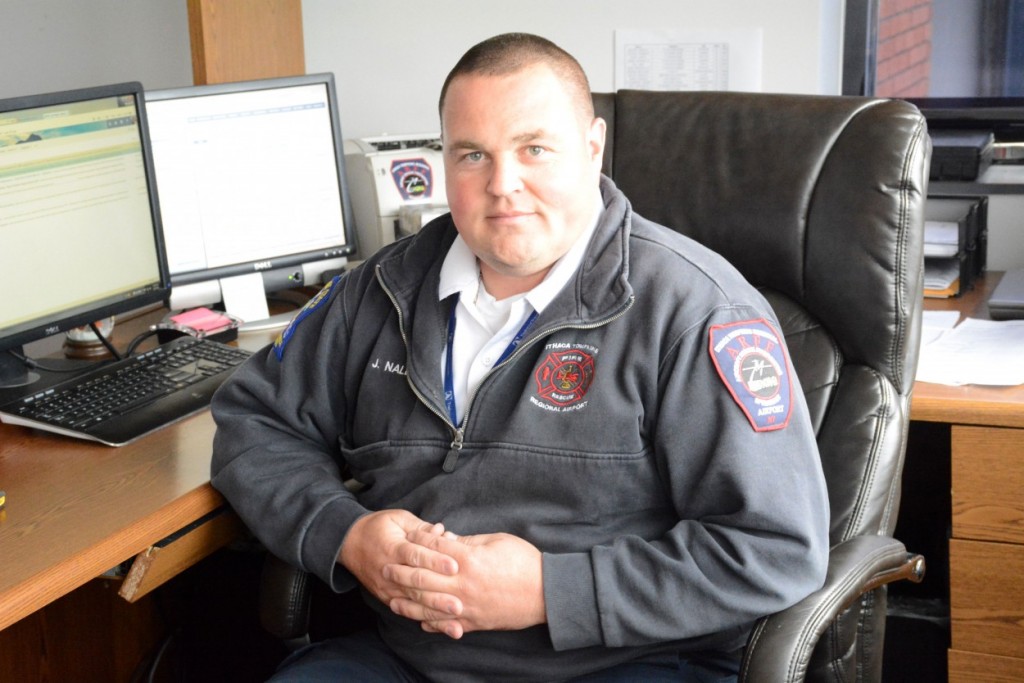 As the head of Ithaca Tompkins Regional Airport's operations and fire safety crew, Josh Nalley is responsible for keeping the airport running safely. He ensures the facilities are ready for takeoff and landing, keeping the runway clear and preventing any potential accidents on site. Each day, he leads the crew in equipment maintenance and emergency preparation drills – specifically for fire training.
All of the airport's equipment must be checked regularly to ensure it meets FAA regulations.  Josh keeps the most up-to-date regulation manuals in his office, memorizing them to ensure each guideline is followed to the letter. "It's a bit of a dry read," he joked, pulling out a large volume from his desk. Despite its length, each regulation is necessary to keep the airport running safely.
Equipment testing also requires a road test of all firefighting equipment. The airport's two new fire trucks must be tested and inspected to ensure they are ready in case of an emergency. When the weather is nice, Josh will oversee fire simulations, challenging the operations crew with firefighting situations that could arise on the runway. These drills are used to challenge the operations crew, test their skills, and help train new recruits for graduation.
Josh also supervises and assists with site maintenance. Each member of his crew is trained in another skill, such as construction or auto repair, that helps maintain the airport. Having this extra training allows him to determine what skills are most needed. Incoming crew members can then be trained to fill a specific position. "If we need someone to repair dry wall in one of the towers," Josh explained, "we have someone with construction experience who can do that." Having worked in auto repair himself, Josh appreciates having a trained, experienced crew.
Despite the heavy workload associated with his position, Josh enjoys working as a member of the fire crew. Having worked with the operations crew for fifteen years, he compares them to a dysfunctional family of sorts. He loves coming into work each day, and looks forward to working with the crew for the rest of his time at the airport. Josh has been with ITH for just over 10 years.
View more posts