Behind the Scenes: Mike Hall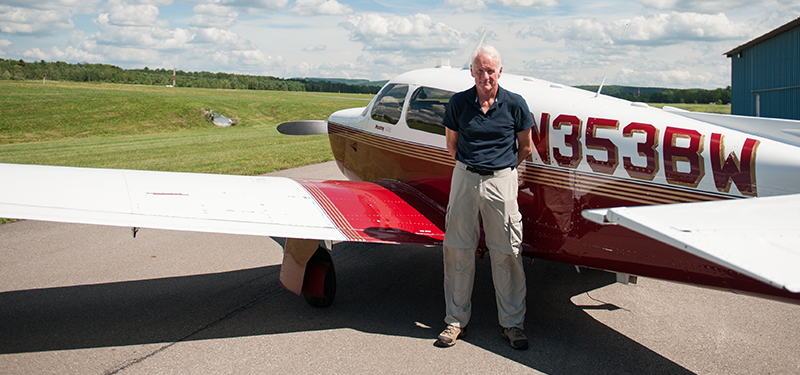 While he has been a part of the Ithaca-Tompkins Regional Airport family since 2014, it does not seem that way. As he arrives for work each day as the manager of the Ithaca-Tompkins Regional Airport, he greets everyone he sees with a friendly hello. Despite being responsible for all facets of airport operations, Mike always has the time to talk, helping to maintain a positive work environment at the airport.
Aside from his contributions at the airport, Mike Hall is a partner in PFA Consulting, a firm responsible for designing and delivering a wide range of leadership and organizational development programs for private and public clients. Services include organizational assessments, development of policy and training programs in sexual harassment prevention, diversity management, equal opportunity and ethics. PFA Consulting was selected by the Department of Defense to provide equal opportunity training for all newly promoted Flag Officers and members of the Senior Executive Service. In that assignment Hall devised and repeatedly delivered a seminar which remains the DOD standard for effective senior leader training.
Prior to forming PFA Consulting, General Hall was Commissioner (1992-1995) of the New York State Division of Military and Naval Affairs, the agency tasked with the administration of the Army and Air National Guard. As the Adjutant General, Hall provided visionary leadership during a difficult period of transition, effectively managing one-third of a billion dollars of state and federal funds and over thirty thousand employees. General Hall devised and implemented a quality management program which resulted in an unprecedented record of excellence. He instituted a comprehensive, top-down ethics program, successfully resolving agency-wide compliance issues and actively recruited and assigned to positions of senior executive level responsibility previously underrepresented minority members. General Hall was also instrumental in the creation of the ChalleNGe and Starbase programs, which to this day use DOD resources to provide a stimulating educational environment for underrepresented and underserved youth in military communities.
General Hall's distinguished military career spanned 27 years of service in the United States Air Force, including an assignment as the Commander of a Tactical Fighter Wing, where he pioneered the use of F-16 aircraft to provide close air support. Hall served as the Senior Allied Air Liaison Officer during the first Gulf War and was promoted the rank of Major General before retiring in 1995. During his career, he flew over forty-five hundred hours in high performance fighter aircraft from the F-106 to the F-16.
PFA Consulting also provides executive services for its clients. As President and CEO of the Wings of Eagles Discovery Center, Hall has converted a defunct aviation museum into a dynamic, aerospace themed, NASA oriented STEM academy. Youth and adults from throughout the region are introduced to a variety of classroom, museum and flight programs designed to impart the knowledge and skills that will prepare them for successful employment in high tech industries.  Drawing from Hall's aerospace experience, Wings of Eagles has developed a partnership with the twenty-one school districts of the Greater Southern Tier Board of Cooperative Educational Services. Working with Wings of Eagles, these component districts have increasingly incorporated NASA materials into their K – 12 STEM education programs. Wings of Eagles is also a sponsor of regional robotics competitions and hosts numerous public displays of learning, like the "active worlds" SciFair.
View more posts