Ithaca Tompkins Regional Airport Manager Robert Nicholas to Retire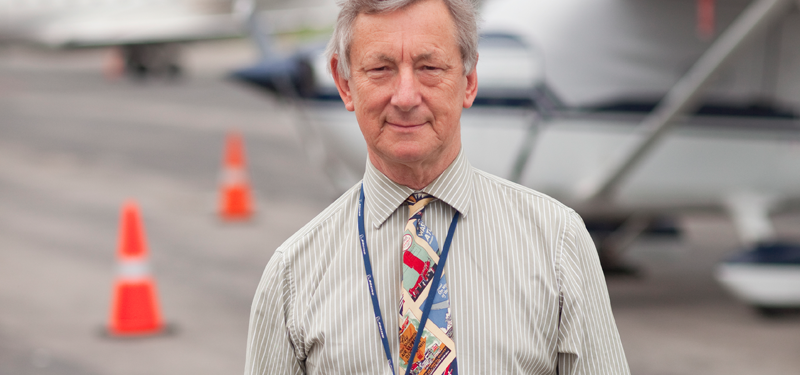 Ithaca Tompkins Regional Airport Manager (ITRA) Robert Nicholas announced this month that he will retire as manager of the airport following 25 years of service. Born in Oxfordshire, England, you've probably heard his distinctive accent from his many radio ads* for the airport over the years.  He became an American citizen in 1990. Nicholas is only the third airport manager since Tompkins County began its ownership of ITRA in 1956.
Nicholas and his family came to the Ithaca area in 1989 after he applied for the opening at ITRA and was offered the position. The job location aligned nicely with the Nicholas family's interest in seeking out better schools for their young children.
A career spanning nearly 50 years in the aviation industry started in 1966 calculating aircraft weight and balance for British European Airways (later British Airways), included three years of postings in and around the Middle East and four years as a Ground Operations Training Officer. He married his wife Elayne in 1981 and emigrated to the United States in 1982. He held several management positions at Ft. Lauderdale/Hollywood International Airport in Florida, and completed his college education while working there.
"It has been wonderful to serve as manager of the airport and to be such an integral part of the community. Over the past 25 years the airport has emerged as a major economic engine for the region.  I take great pride in the airport's mission to serve the traveling public, and I am proud to have played a role in developing and implementing the nation's first Sustainable Airport Master Plan that ended up winning  local, state and national awards," said Nicholas.
Over Nicholas' tenure, he has overseen in excess of $50 million in airport improvements, including a new passenger terminal complex, two runway extensions and three expansions of the Airport Administration/CFR Building. He helped negotiate an airline agreement in 1993 that has kept the airport financially self-sufficient for over 20 years.
In recent years, with guidance from the Air Service Board, established in 1998, the airport administration has been able to pursue strategies to increase air service and keep planes full. Over the past 25 years Nicholas has been repeatedly met with the challenge of balancing the needs for convenient air travel in and out of Tompkins County and meeting that demand with the appropriate level of service.
The Air Service Board advises airport administration and the Tompkins County Legislature in the areas of improving existing and attracting new air service, engaging customers, reviewing operations, maintaining on-going relationships with air carriers and stemming leakage to other airports.
Michael Stamm, Air Services Board Chair and Tompkins County Area Development President, has worked with Nicholas for the past 25 years and he shares his appreciation for Nicholas' "commitment to air service and its crucial role in our community's economy."
Nicholas graduated summa cum laude with a degree in Human Resources, specializing in business psychology and personnel relations, from St. Thomas University, Miami, FL.  His professional affiliations include becoming an Accredited Airport Executive; Chair of the Aviation Technical Committee of the Southern Tier of New York; President of the New York Airport Managers Association; serving on the Board of the Tompkins County Chamber of Commerce; and  Chair of the Tompkins County Visitors Industry Council.
Among his notable awards, Nicholas received the "Bill Shea" Award in 2001 for Contributions to New York Aviation. This award recognizes those who demonstrate exemplary leadership and effect positive change in the aviation industry in New York State.  In 2011, The Ithaca Tompkins Regional Airport received the national "Airports Going Green" award in Chicago for the airport's sustainable master plan project. This prestigious award recognized the value of this project and outstanding leadership in pursuit of sustainability within the aviation industry.
An avid golfer, Nicholas was also the 2003 Winner of the Jet Blue Golf Challenge Championship.
Nicholas will stay on at ITRA until 31 July, 2014.  He and his wife will then focus more time on their furniture restoration and bespoke upholstery business, "Big Button Upholstery."
View more posts