Arcuri Announces Over $400,000 for Ithaca Tompkins Regional Airport
ITHACA, NY  U.S. Rep. Michael A. Arcuri (NY-24) joined Ithaca Tompkins Regional Airport Manager Bob Nicholas today to announce $418,042 in funding the Federal Aviation Administration (FAA) has awarded the Ithaca Tompkins Regional Airport to acquire snow removal equipment.
"I am pleased to present this federal grant which will enable Ithaca Tompkins Regional to continue to operate safely in all seasons," said Arcuri, a member of the House Transportation and Infrastructure Committee which is responsible for authorizing funds through the FAA. "These funds will ensure that the airport continues to be a point of growth and development in the region. I will continue to fight to make sure federal funding comes back to our area to improve transportation infrastructure."
Airport Manager, Bob Nicholas responded: "I am absolutely delighted to receive a grant of $ 418,042 to purchase a new snow plow for the airport. With the kind of winters we see in Upstate New York, the new plow will allow us to keep the airport open for business even after the heaviest of snow storms. I would like to really thank Congressman Arcuri for all the work he does to make grants like this possible."
The FAA awarded the airport funding to purchase a new snow plow and heated spreader for the airport. Existing equipment at the airport needs to be upgraded to maintain the safety of the airport during the winter months.
Since taking office, Arcuri has announced over $8.5 million in FAA grants for equipment and construction at the Ithaca Tompkins Regional Airport.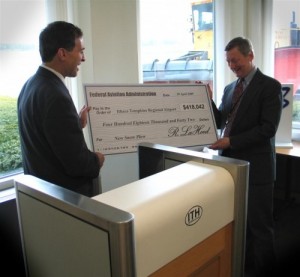 View more posts