Employee Profile: Meet Mike Hall, Director of ITH
By Flavia Chavarria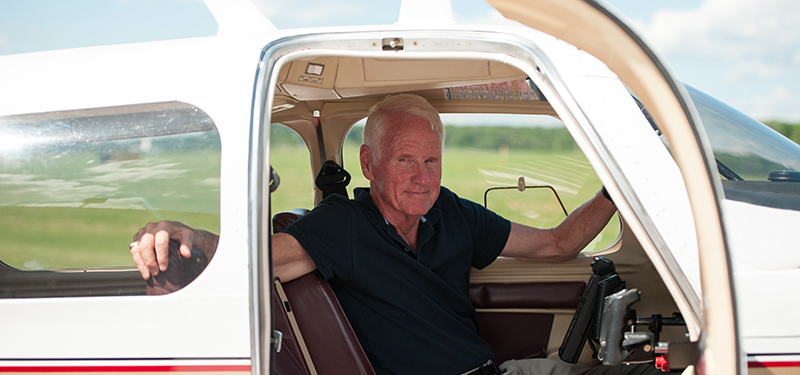 Meet Mike Hall! He's the director of the Ithaca Tompkins Regional Airport (ITH), and one of the fifteen staff members that we have to thank for the airport's recent developments. If you haven't heard yet, ITH was recently awarded $14.2 million by New York State through the Upstate Airport Economic Development and Revitalization Competition. This $200 million initiative was established by Governor Cuomo to modernize the state's aging airport facilities.
"You could say that it took a lot of salesmanship," says Mike, laughing, "but it really wouldn't have been possible without the efficiency and dedication of our staff."
This isn't the only achievement the airport has seen in the three years that Mike Hall has been in charge. Just this year, not only did ITH became fully serviced by jets, but we are also adding a new direct flight to Dulles International Airport in Washington D.C. to better serve our ITH community.
"It's part of my job to figure out what our community needs, to move heaven and earth to bring it to them and to make sure they know when we have it," explained Mike. As ITH director, Mike focuses on service development and community relations and is always taking an extra step to strengthen ITH's ties with the community.
Under Mike Hall's leadership, the airport has partnered with several local organizations, donating several travel vouchers and hosting events to support their charitable causes. For example, ITH will host their annual 5K run this September to raise funds for the Society for the Prevention of Cruelty to Animals (SPCA) of Tompkins County, one of the charities that ITH donates its profit to.
As Mike loves to say, "We're not in the business of making profit; we're here to service our community."
Mike appreciates his position because it gives him the opportunity to keep making Ithaca brighter and more colorful. Believe it or not, Tompkins County is one of the most diverse counties in the state of New York. According to Mike, "Here in Ithaca we speak your language, we cook your food and we welcome you with open arms. [Because of] Cornell University, Ithaca College and our hardworking businesses…a rainbow of people pass through ITH's doors daily."
Mike believes that our vibrant ecosystem and diverse community are two of the things that make Ithaca "gorges". His overall goal for the airport is that it to continue to support Ithaca's needs as an international hub while also maintaining one of the city's best assets – its green splendor. As part of the airport renovations funded by the governor's award, Mike intends to install solar energy to power up the airport's facilities. 
It is very evident that Mike truly loves Ithaca. But, did you know that he's a homegrown hero? After growing up on a local farm and graduating from Cornell, he went on to serve 27 years in the U.S. Air Force, ultimately achieving the rank of major general.  After retiring from the armed forces, Mike settled down on his own farm and ran a leadership business. When he was presented with the opportunity to become the new ITH director, Mike did not hesitate to take on this role that perfectly combines all his passions. As Mike says, "You could say that my entire life is centered around my love for the environment, flying and civil rights, and this job just finds a way to combine these together."
We couldn't agree with him more!
View more posts